How to creating a Journal Mailbox
Microsoft® Exchange Server 2010 supports two types of journaling:
Standard journaling: Configure a store that enables the recording of email in an organization.

GFI Archiver

can use Microsoft® Exchange Server journaling to centralize all the emails in a single mailbox for archival. This type of journaling is also called per-mailbox database journaling.
Premium journaling: Only available with Microsoft® Exchange Enterprise client access license. It enables an administrator to setup custom journaling rules such as:
Archive only incoming emails
Archive only outgoing emails
Archive emails for a particular group.
Which journaling method shall I use?
Choose standard journaling to archive all emails (inbound and outbound) for all users in your organization.
Choose premium journaling if you want more control over the emails to archive (For example, only for specific users or for inbound or outbound only).
Set up standard journaling
Create Mailbox:
1. Launch Microsoft Exchange Management Console.
2. Expand Recipient Configuration node and click on Mailbox node.
3. Select New Mailbox… from the Actions pane.
4. Select User Mailbox option and click Next.
5. Select New user option and click Next.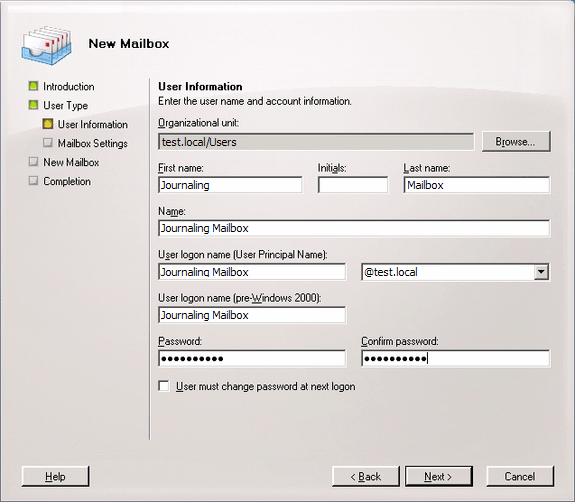 6. Key in the 'User information' details for the new user to which the new journaling mailbox will be assigned and click Next.
7. Enter an 'Alias' for the journaling mailbox and click Next.
8. Click Next and review the new mailbox summary for the new mailbox to create and click New.


Create the Standard Journaling
1. Launch Microsoft Exchange Management Console.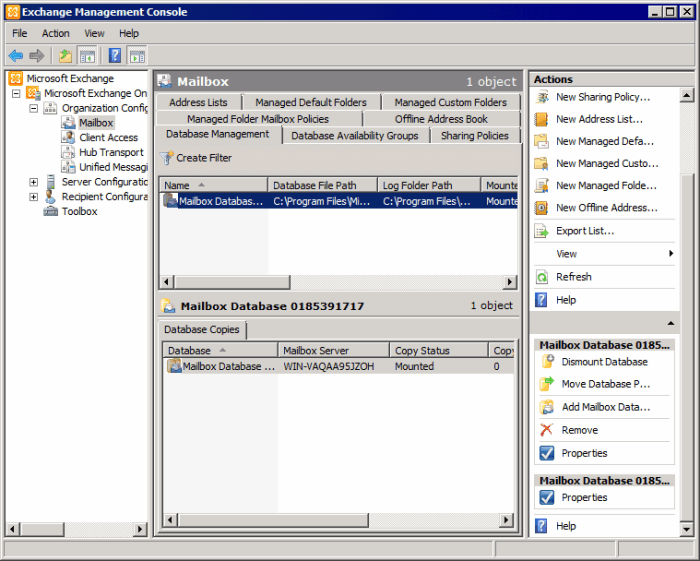 2. Expand Microsoft Exchange > Organization Configuration > Mailbox node. Right-click the Mailbox database and select Properties.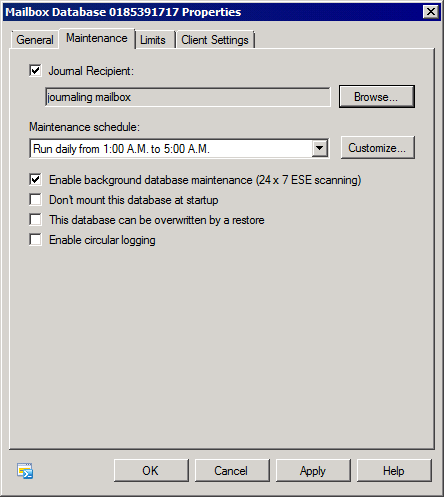 3. From the mailbox database properties dialog, select the Maintenance tab and select the Journal Recipient checkbox. Click Browse, and select the journaling mailbox previously configured.
4. Click OK to finalize setup.
Setup the Premium Journaling
1. Launch Microsoft Exchange Management Console.
2. Expand Organization Configuration > Hub Transport node and select tab.
3. From the Actions tab, click New Journal Rule.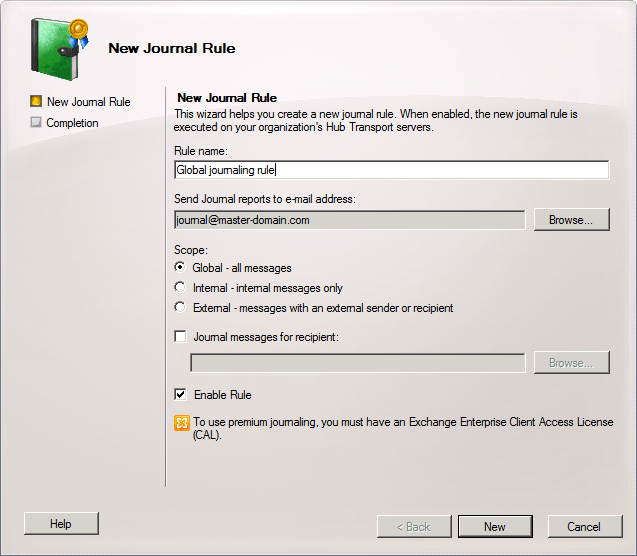 4. Key in a name for the new rule
5. Click Browse to select the journaling mailbox where to send journal reports.
6. <Optional> Configure:
Scope - Select whether to journal all email (Global), internal or external email.
Journal messages for recipient - Select specific recipient(s) for this journaling rule.
7. Ensure that the Enable Rule option is enabled and click New.
Source: http://manuals.gfi.com/en/mar12admin/content/administrator/topics/journalingmailboxops/journalmailboxexchange2010.htm